Bugatelier offers  remanufactured parts. Beautifully crafted and fully comply with the original specifications , they are delivered either as raw castings or machined ready to fit.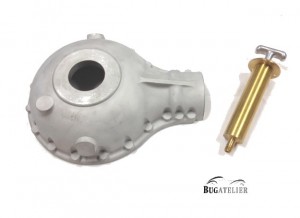 Price and detail on demand
Call us: +33 6 74 44 74 59
Send us an email: here
View the catalog in .pdf format: Download the  catalogue
Use of the table: The search field in the top right of the table allows you to quickly find the type of car you want. Enter for example type 35 or 57 … The arrows ↑ ↓ in the first row sort by category. You can also choose the number of lines you want to display in the top left frame of the table. Clicking on a photo enlarges it!

Catalogue de toutes les pièces disponibles / Parts list / Teileliste
Catégorie
Pièces / Parts / Teile
N° de pièce
Part number
Teilnummer
Désignation en français,
english,deutsch.
Obs
Convient pour
Suitable for
Geeignet für
Catégorie
Pièces / Parts / Teile
N° de pièce
Part number
Teilnummer
Désignation en français,
english, deutsch.
Convient pour
Suitable for
Geeignet für
Moteur
Engine
Motor
35AC86
Douille male règlage de l'avance
Ignition Advance trimming male part
Vorzüdung einstellung
Pièce usinée
Machined part
Werkstück
Type 35
Moteur
Engine
Motor
35AC87
Douille femelle règlage de l'avance
Ignition Advance trimming femelle part
Vorzüdung einstellung
Pièce usinée
Machined part
Werkstück
Type 35
Châssis
30CH273
boulon d'attache cable de frein
Bolzenbefestigungsbremskabel
brake cable bolt
Pièce usinée
Machined part
Werkstück
Type 30,35,37,38,39,40, 44,49,51,54,55
Embrayage
Clutch
Kupplung
29/30EMBR41
Bouchon du couvercle d'embrayage
Clutch cover cap
Pièce usinée
Machined part
Werkstück
Type 30,35,37,38,39,40, 44,49,51,54,55
Pont arrière
Rear axel
Hinterachse
30PA72
Douille de roulement du différentiel
Differential bearing bushing
Differentiallagerbuchse
Pièce usinée
Machined part
Werkstück
Type 30,35,37,38,40,43,44,49,50
Embrayage
Clutch
Kupplung
29/30EMBR41
Bouchon du couvercle d'embrayage
Clutch cover cap
Pièce usinée
Machined part
Werkstück
Type 30,35,37,38,39,40, 44,49,51,54,55
Pont arrière
Rear axel
Hinterachse
30PA90
Tendeur de pont arrière
Hinterbrücke Spanner
Rear axle tensioner
Pièce usinée
Machined part
Werkstück
Type 35,37
Pont arrière
Rear axel
Hinterachse
35PA14
Cale entre tube et tendeur PA
Pièce brute
Casting part
Rohguss
Type 35,37
Pont arrière
Rear axel
Hinterachse
57PA20
Tendeur de pont arrière
Hinterbrücke Spanner
Rear axle tensioner
Pièce usinée
Machined part
Werkstück
Type 57
Pont arrière
Rear axel
Hinterachse
33CP130
Tendeur de pont arrière
Hinterbrücke Spanner
Rear axle tensioner
Pièce usinée
Machined part
Werkstück
Type 44,49
Pont arrière
Rear axel
Hinterachse
30PA76
Tête de tendeur de pont AR
Rear axle tensioner head
Hinterbrückespannerkopf
Pièce usinée
Machined part
Werkstück
Type 30,35,37,38,40,44,51,55?57
Pont arrière
Rear axel
Hinterachse
30PA93
Ecrou du tendeur de pont AR
Pièce usinée
Machined part
Werkstück
Type 30,35,37,38,40,44,51,55?57
Châssis
30CH273
Boulon de chape cable de frein
fastening bolt of brake cable
Bremskabelbolzen
Pièce usinée
Machined part
Werkstück
Type 30,35,37,38,40,43,44,49,51,55,57
Pont arrière
Rear axel
Hinterachse
30PA81 ( vis)
30PA115 (écrou)
Vis de règlage du roulement de moyeu arrière
Rear hub bearing adjustment screw
Einstellschraube für hintere Nabe
Pièce usinée
Machined part
Werkstück
Type 30,35,38,40,43,44,49,57
Pont arrière
Rear axel
Hinterachse
30PA66
rondelle fixation des feutres du pont AR
washer fixing the rear axle fels
Unterlegscheibe zur Befestigung des Hinterachsefels
Pièce usinée
Machined part
Werkstück
Type 30,38,40,43,44,49
"Bobinette"
Moteur
Engine
Motor
35AC95
Poulie entrainement compte tours
Tacho pulley



Pièce usinée
Machined part
Werkstück
Type 35
Pont arrière
Rear axel
Hinterachse
30PA15
Bague de règlage du roulement dans le moyeu AR
Bearing adjustment ring in the rear hub
Lagereinstellring in der Hinterradnabe
Pièce usinée
Machined part
Werkstück
Type 33,38,40,44
Embrayage
Clutch
Kupplung
29/30EMBR1
Arbre d'embrayage
Clutch shaft
Kupplungswelle
Pièce usinée
Machined part
Werkstück
Type 30,35,37,38,39,40, 44,49,51,54,55
Embrayage
Clutch
Kupplung
29/30EMBR2
Plateau sur arbre d'embrayage
Clutch flange
Kupplungsflansche
Pièce usinée
Machined part
Werkstück
Type 30,35,37,38,39,40, 44,49,51,54,55
Embrayage
Clutch
Kupplung
29/30EMBR5
Couvercle d'embrayage
Clutch cover
Kupplungsdeckel
Pièce usinée
Machined part
Werkstück
Type 30,35,37,38,39,40, 44,49,51,54,55
Embrayage
Clutch
Kupplung
29/30EMBR24
29/30EMBR26
29/30EMBR28
29/30EMBR29

Ensemble de disques d'embrayage garnis Ferodo
Kupplungsscheibeset mit Ferodo belegt
Set of dry clutch disk lined with Ferodo

Pièce usinée
Machined part
Werkstück
Type 30,35,37,38,39,40, 44,49,51,54,55
Embrayage
Clutch
Kupplung
29/30EMBR24
Grosse lamelle de pression
Clutch plate bottom driving
Dicke Druckscheibe
Pièce usinée
Machined part
Werkstück
Type 30,35,37,38,39,40, 44,49,51,54,55
Embrayage
Clutch
Kupplung
29/30EMBR26
Grosse lamelle de fond
Clutch plate rear driving
Hintere Kupplungsscheibe
Pièce usinée
Machined part
Werkstück
Type 30,35,37,38,39,40, 44,49,51,54,55
Embrayage
Clutch
Kupplung
29/30EMBR28
Disque d'embrayage garni de Ferodo
Dry clutch plate lined with Ferodo
Trockenekupplungsscheibe mit Ferodo belegt

Pièce usinée
Machined part
Werkstück
Type 30,35,37,38,39,40, 44,49,51,54,55
Embrayage
Clutch
Kupplung
29/30EMBR29
Disque d'embrayage acier
Clutch plate steel
Kupplungsscheibe Stahl
Pièce usinée
Machined part
Werkstück
Type 30,35,37,38,39,40, 44,49,51,54,55
Embrayage
Clutch
Kupplung
29/30EMBR6
Manchon de la commande d'embrayage
Bearing hub
Lagerbuchse
Pièce usinée
Machined part
Werkstück
Type 30,35,37,38,39,40, 44,49,51,54,55
Embrayage
29/30EMBR7
Roulement du manchon de débrayage
Bearing
Lager
Pièce usinée
Machined part
Werkstück
Type 30,35,37,38,39,40, 44,49,51,54,55
Embrayage
Clutch
Kupplung
29/30EMBR8
Ecrou de serrage du roulement
Bearing nut
Lager Mutter
Pièce usinée
Machined part
Werkstück
Type 30,35,37,38,39,40, 44,49,51,54,55
Embrayage
Clutch
Kupplung
29/30EMBR10
Entretoise sur le manchon de commande
Spacer
Klammer
Pièce usinée
Machined part
Werkstück
Type 30,35,37,38,39,40, 44,49,51,54,55Machined part
Werkstück
Embrayage
Clutch
Kupplung


29/30EMBR11
Douille de roulement
Pièce usinée
Type 30,35,37,38,39,40, 44,49,51,54,55
Embrayage
Clutch
Kupplung
29/30EMBR12
Rondelle sertie dans la douille de roulement
Washer crimped in the lcutch bearing sleeve
Unterlegscheibe in der Kupplungslagerbuchse
Pièce usinée
Machined part
Werkstück
Pièce usinée
Machined part
Werkstück
Embrayage
Clutch
Kupplung
29/30EMBR13
Lunette de commande
Yoke
Pièce usinée
Machined part
Werkstück
Pièce usinée
Machined part
Werkstück
Embrayage
Clutch
Kupplung
29/30EMBR14
Clavette guide de la commande d'embrayage

Kupplung Führungskeil
Pièce usinée
Machined part
Werkstück
Type 30,35,37,38,39,40, 44,49,51,54,55
Embrayage
Clutch
Kupplung
29/30EMBR15
Ecrou de réglage de l'embrayage
Adjusting ring
Einstellring
Pièce usinée
Machined part
Werkstück
Type 30,35,37,38,39,40, 44,49,51,54,55
Embrayage
Clutch
Kupplung
29/30EMBR16
Support des doigts de commande
Sliding Yoke for Clutch
Schiebebügel
Pièce usinée
Machined part
Werkstück
Type 30,35,37,38,39,40, 44,49,51,54,55
Embrayage
Clutch
Kupplung
29/30EMBR17
Ressort de tension du support des doigts de commande
Tension spring
Zugfeder
Pièce usinée
Machined part
Werkstück
Type 30,35,37,38,39,40, 44,49,51,54,55
Embrayage
Clutch
Kupplung
29/30EMBR18
Ressort d'arrêt de l'écrou de réglage d'embrayage
Stop spring
Anschlagsfeder
Pièce usinée
Machined part
Werkstück
Type 30,35,37,38,39,40, 44,49,51,54,55
Embrayage
Clutch
Kupplung
29/30EMBR20
Clavette guide du support des doigts de commande
Guide key
Schlüsselfürung
Pièce usinée
Machined part
Werkstück
Type 30,35,37,38,39,40, 44,49,51,54,55
Embrayage
Clutch
Kupplung
29/30EMBR21
Doigt de commande de l'embrayage
Clutch control finger

Pièce usinée
Machined part
Werkstück
Type 30,35,37,38,39,40, 44,49,51,54,55
Embrayage
Clutch
Kupplung
29/30EMBR22
Axe des doigts de commande l'embrayage
Clutch finger axis
Kupplungsfingerachse

Pièce usinée
Machined part
Werkstück
Type 30,35,37,38,39,40, 44,49,51,54,55
Embrayage
Clutch
Kupplung
29/30EMBR31
Biellette de commande des doigts
Control rod
Steurstab
Pièce usinée
Machined part
Werkstück
Type 30,35,37,38,39,40, 44,49,51,54,55
Embrayage
Clutch
Kupplung
29/30EMBR32
Axe long sur les doigts de commande
Long axis
Lange Achse
Pièce usinée
Machined part
Werkstück
Type 30,35,37,38,39,40, 44,49,51,54,55
Embrayage
Clutch
Kupplung
29/30EMBR33
Axe court sur les doigts de commande
Short axis
Kurze Achse
Pièce usinée
Machined part
Werkstück
Type 30,35,37,38,39,40, 44,49,51,54,55
Embrayage
Clutch
Kupplung
29/30EMBR34
Rondelle d'arrêt des axes de doigts et biellettes
Lock washer
Sicherrungsscheibe
Pièce usinée
Machined part
Werkstück
Type 30,35,37,38,39,40, 44,49,51,54,55
Embrayage
Clutch
Kupplung
29/30EMBR35
Guide supérieur de la douille de roulement
Upper bearing guide
Oberer Führungslager
Pièce usinée
Machined part
Werkstück
Type 30,35,37,38,39,40, 44,49,51,54,55
Embrayage
Clutch
Kupplung
29/30EMBR36
Guide inférieur de la douille de roulement
Lower bearings guide
Untere Führungslager
Pièce usinée
Machined part
Werkstück
Type 30,35,37,38,39,40, 44,49,51,54,55
Embrayage
Clutch
Kupplung
43TIM23
Fourchette de commande
Operating range
Kupplungsgabel
Pièce usinée
Machined part
Werkstück
Type 30,35,37,38,39,40, 44,49,51,54,55
Pont arrière
Rear axel
Hinterachse

35PA5
Carter de pont arrière partie gauche
Rear axel housing left
Hinterachsegehaüse links
Pièce brute
Casting part
Rohguss
Type 35, 37,51, Touring
Pont arrière
Rear axel
Hinterachse

35PA6
Carter de pont arrière partie droite
Rear axel housing right
Hinterachsegehaüse rechts
Pièce brute
Casting part
Rohguss
Type 35, 37,51, Touring
Moteur
Engine
Motor
57 MOT 23
Arbre de pompe à eau
Waterpump shaft Wasserpumpenwelle
Pièce usinée
Machined part
Werkstück




Type 57
Moteur
Engine
Motor
Graisseur de pompe à eau complet
Moteur
Engine
Motor
30MOT119
30MOT120
30MOT121
30MOT122
Graisseur de pompe à eau complet
Complete water pump lubrificator
Wasserpumpeschmierer komplet
Pièce usinée
Machined part
Werkstück
Moteur
Engine
Motor
51MOT56
Tube de sortie d'eau
Water outlet tube
Wasser Rohr
Pièce usinée
Machined part
Werkstück
Type 51,55
Moteur
Engine
Motor


57MOT140
57SMOT8
Tube de sortie d'eau
Water outlet tube
Wasser Rohr
Pièce usinée
Machined part
Werkstück
Type 57
Type 57S
Moteur
Engine
Motor
37AC3
Levier admission echappement
Valve lever
Ventilverriegelung


Pièce usinée
Machined part
Werkstück
Type 37,40,44,49
Boite vitesse
Gearbox
Getriebe

44CV1
38CV3
Couvercle AV
Couvercle AR de boite de vitesse
Gearbox cover front/ rear
Getriebedeckel vorne und hinten

Pièce usinée
Machined part
Werkstück
Type 38,43,44,49,55
Boite vitesse
Gearbox
Getriebe
Carter boite de vitesse complet
Gearbox casing
Getriebegehaüse


Pièce brute
Casting part
Rohguss
Boite vitesse
Gearbox
Getriebe
35CV271
Carter de boite de vitesse
Main gearbox casing
Getriebegehaüse
Pièce brute
Casting part
Rohguss
Type 35, 37,51, Touring
Boite vitesse
Gearbox
Getriebe
35CV272
Couvercle de boite de vitesse
Lid for gearbox
Getriebedeckel
Pièce brute
Casting part
Rohguss
Type 35, 37,51, Touring
Châssis
35CH15
Main avant support de ressort
Spring Hanger- front
VorderfederbockEarly
Pièce brute
Casting part
Rohguss

Type 35, 37, 51
Moteur
Engine
Motor
35AC102
Support axe avance-retard
Aluminium Bracket for A-R mechanism
Pièce brute
Casting part
Rohguss
Type 35, 37, 51
Châssis
Support phare ou garde boue
Light or Mudguard Braket
Scheinwerfer oder Koflügelhalterung
Pièce brute
Casting part
Rohguss
Châssis
35CH133
Corps de pompe à air
Engine pump body
Luftpumpekörper
Pièce brute
Casting part
Rohguss
Type 35, 37
Moteur
Engine
Motor
35AC101
Levier bronze réglage avance retard
Bronze Pivot for A-R lever

Pièce brute
Casting part
Rohguss
Type 35
Châssis
35CH279
Poignée pompe à air
Air Pump Handle

Pièce brute
Casting part
Rohguss

Type 35, 37, 51
Châssis
Manette comodo
Switch lever
Schalthebel
Pièce brute
Casting part
Rohguss

Types divers
Various types
Verschiedene Models
Moteur
Engine
Motor

35AC133
Pompe de pression à main complète
Engine Air Pump complete as shown
Luftdruckpumpe komplet
Pièce usinée
Machined part
Werkstück
Type 35, 37, 51
Châssis

35AMORT1
30AM4
35AM7


Amortisseur complet:
- Tambour
- Segment bronze
- Support ressort
Shock Absorber complete as shown
Stossdämpfer

Pièce usinée
Machined part
Werkstück
Type 35, 37, 51
Moteur
Engine
Motor
Système avance/retard
Ignition adjustment
Zünverstellung
Pièce usinée
Machined part
Werkstück
Type 35
Moteur
Engine
Motor
Bague dispositif avance/retard
(pièce usinée)
Pièce usinée
Machined part
Werkstück
Type 35
Châssis
35CH147
Pédale de frein
Brake Pedal
Bremspedal
Pièce usinée
Machined part
Werkstück
Type 35, 37, 51
Châssis
Came de frein
Brake Cam
Bremsnoken
Pièce usinée
Machined part
Werkstück
Types divers
Various types
Verschiedene Models
Moteur
Engine
Motor
44MOT138
Palier de vilebrequin
Bearing cap center
Kurbelwelledeckel

Pièce usinée
Machined part
Werkstück
Type 37, 40, 44, 49
Châssis
33CH66
33CH67
33CH153
Bielle de poussée complète: barre +extrémité sphérique + demi boite de rotule sans graisseur + demi boite de rotule avec graisseur
Radius Rod complete, (as shown)


Pièce usinée
Machined part
Werkstück
Type 35, 37, 51
Châssis
35CH66
Barre + extrémité sphérique
Bar + rod
Stange + Kugel
Pièce usinée
Machined part
Werkstück
Châssis
35CH67
Demi boite de rotule sans graisseur
Bronze cup for radius rod without greaser
Halbe Schachtel ohne Schmierer

Pièce usinée
Machined part
Werkstück
Châssis
35CH153
Demi boite de rotule avec
graisseur
Bronze cup for radius rod with greaser
Halbe Schachtel mit Schmierer

Pièce usinée
Machined part
Werkstück
Châssis
35CH67
Demi boite de rotule sans graisseur
Bronze cup for radius rod without greaser
Halbe Schachtel ohne Schmierer

Pièce brute
Casting part
Rohguss
Châssis
35CH153
Demi boite de rotule avec graisseur
Bronze cup for radius rod with greaser
Halbe Schachtel mit Schmierer

Pièce brute
Casting part
Rohguss
Moteur
Engine
Motor
Tendeur de courroie
Belt Spanner
Riemenspanner
Pièce usinée
Machined part
Werkstück

type 35
Moteur
Engine
Motor
35AC63
Poulie entrainement compte-tour complète avec
axe et goupille
Tacho Pulley

Pièce usinée
Machined part
Werkstück

Type 35
Châssis
Renfort châssis
Chassis reinforcement
Chassis Verstärkung


Pièce usinée
Machined part
Werkstück
Châssis
35CH132
Butée de frein à main
Handbrake stop
Hanbbremseanschlag
Pièce usinée
Machined part
Werkstück


Type 35,37,51,54
Essieu avant
22/23DIR406

22/23DIR1684
Couvercle de tête de barre d'accouplement Ø20mm
Tête de barre d'accouplement Ø20mm
Pièce usinée
Machined part
Werkstück

Type 22,23,30,35,37,40
Essieu avant
Front axel
Vorderachse
22/23ESS-AV404
Coupelle de crapaudine ext longue Ø 20 mm
Pièce usinée
Machined part
Werkstück

Type 22,23,30,35,37,40
Essieu avant
Front axel
Vorderachse
22/23ESS-AV1685
Coupelle de crapaudine courte Ø20mm
Pièce usinée
Machined part
Werkstück

Type 22,23,30,35,37,40
Boite vitesse
Gearbox
Getriebe

30CHV32
Fourchette de 1ère et 2eme
Pièce brute
Casting part
Rohguss
Boite vitesse
Gearbox
Getriebe

30CHV33
Fourchette de 3eme et 4eme
Pièce brute
Casting part
Rohguss
Boite vitesse
Gearbox
Getriebe

30CHV93
Fourchette de marche AR
Pièce brute
Casting part
Rohguss
Essieu avant
Front axel
Vorderachse
33ESSAV50
Crapaudine ext longue Ø25
Pièce usinée
Machined part
Werkstück

Type 38.44.49.57
Essieu avant
Front axel
Vorderachse
33ESSAV49
Crapaudine int Ø25mm
Pièce usinée
Machined part
Werkstück

Type 38.44.49.57
Essieu avant
Front axel
Vorderachse
57EA24
46EA36
Extrémité barre d'accouplement des fusées Ø 25mm
Couvercle de barre Ø 25mm
Pièce usinée
Machined part
Werkstück

Type 38.44.49.57
Essieu avant
Front axel
Vorderachse


57EA23
33EA52
Extrémité barre de direction Ø 25mm
Couvercle barre de direction Ø 25mm
Pièce usinée
Machined part
Werkstück

Type 57
Châssis
Support de tablier GP
Pièce usinée
Machined part
Werkstück
Type 35,37,51,54
Châssis
35CH28

30CH19
Boulon d'attache du ressort arrière
Ecrou correspondant
Pièce usinée
Machined part
Werkstück
Type 35,37,51,54
Châssis
35CH29

Folio 8
Boulon d'attache du ressort arrière
Ecrou crénélè Ø12 mm
pas150
Pièce usinée
Machined part
Werkstück
Type 35,37,51,54
Pont AR
57PA52
Boulon accouplement arbrede transmission
Pièce usinée
Machined part
Werkstück
Type 57
Châssis
35CH36
Boulon d'articulation du ressort AR
Pièce usinée
Machined part
Werkstück
Type 35,37,51,54
Châssis
35CH35
Douille dans l'oeil du ressort AR
Pièce usinée
Machined part
Werkstück
Type 35,37,51,54
Moteur
Pare flamme pour carburateur Solex 35MH
Pièce usinée
Machined part
Werkstück
Type 35,38